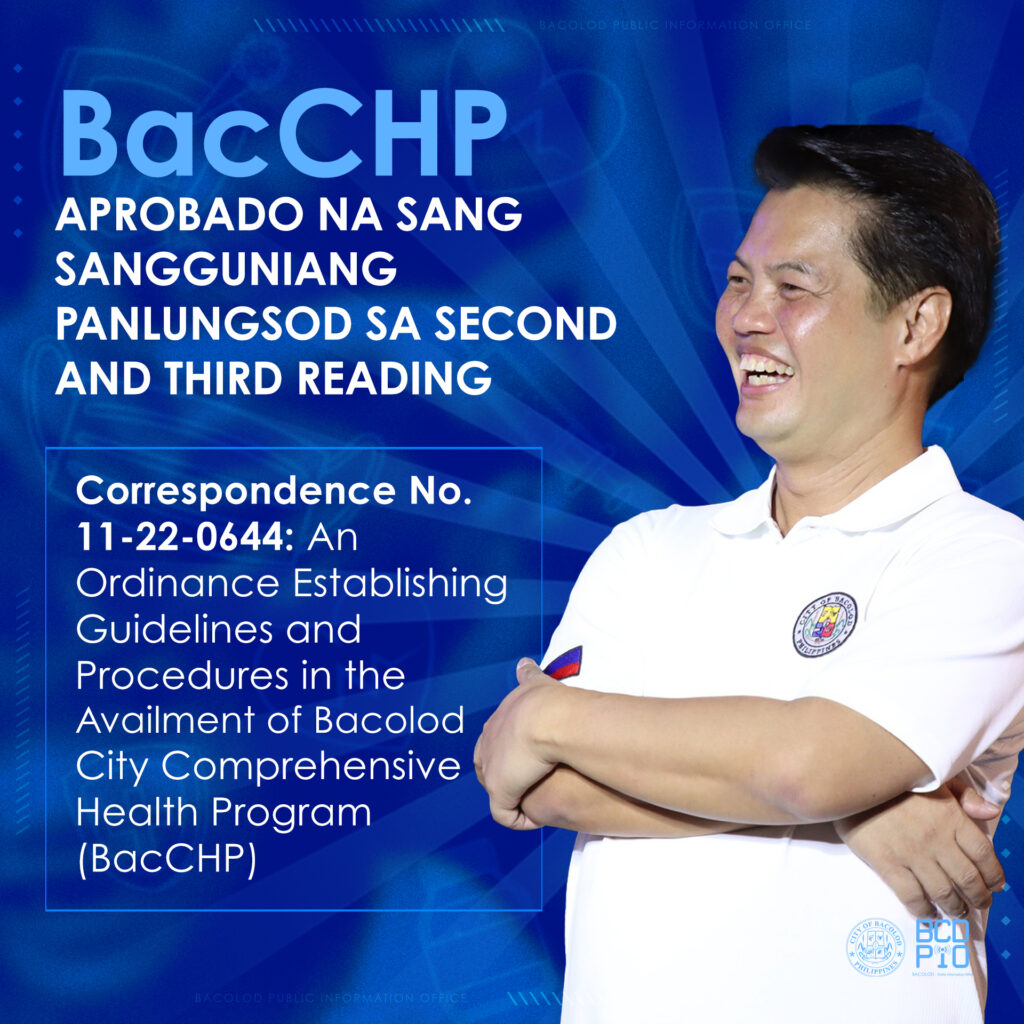 December 07, 2022 – An ordinance establishing guidelines and procedures in the availment of Bacolod City Comprehensive Health Program (BacCHP) was approved on second and third reading during the 23rd regular session of the Sangguniang Panlungsod.
Authored by the Chairman of Committee on Health, Councilor Claudio Jesus Raymund Puentevella, this proposed ordinance shall be known as the Bacolod City Comprehensive Health Program that serves as a priority flagship program of the city that aims to maximize government resources for the implementation of an adequate & responsive healthcare system.
With its approved allocated P80 Million fund for its initial implementation, which shall be sourced from the Assistance to Individual in Crisis Situation (AICS) fund, this ordinance shall support the implementation of an annual health check-up and regular distribution of free maintenance medicines in conjunction with the City Health Office through the preventive program of Philippine Health Insurance Corporation (PhilHealth).
Optimize the service of private healthcare facilities for preventive and curative healthcare for all its members and ensure sufficient administrative support to facilitate the delivery of healthcare services, facility enhancement and services in existing primary healthcare stations in each barangay.
BacCHP program is exclusive for Bacolod City residents that reside for at least one year, members of the PhilHealth as principal or dependent with updated premium payments, and have submitted requirements requested by the BacCHP Operations Center shall be qualified to receive benefits under the program.
Three Bacolod private hospitals namely South Bacolod General Hospital, Metro Bacolod Hospital and Medical Center, and the latest Bacolod Queen of Mercy Hospital have already signed a memorandum of agreement in support of the said program.
Furthermore, this program shall endeavor to secure and utilize all available government resources for healthcare in order to eliminate out of pocket expenses for all its members.
The BacCHP cardholder beneficiary shall be entitled to a maximum of Php 15,000 assistance, provided that the assistance shall be used only after exhausting Philhealth Benefits, and other government health care grants.
(Source: Bacolod City Public Information Office)