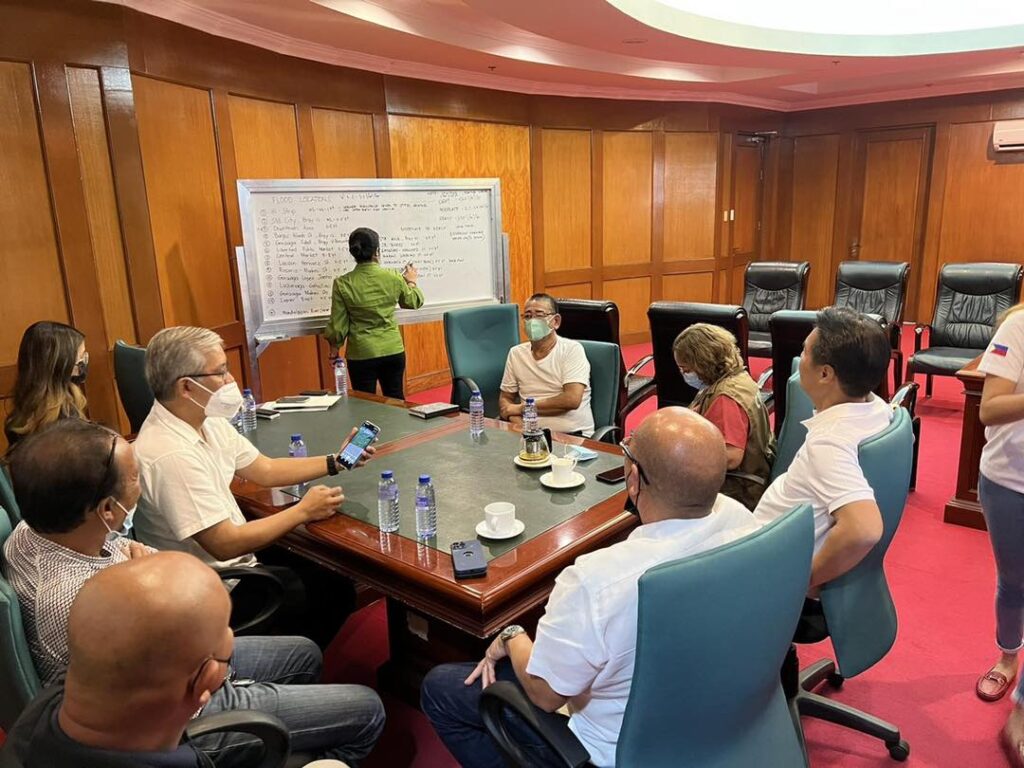 Si Mayor Albee Benitez ang naghiwat sang meeting sa Department of Public Ways and Highways (DPWH) kag City Engineers Office (CEO) kaupod si Vice Mayor El Cid Familiaran sa sini nga aga.
Sa ila diskusyon, 22 ka mga problematic areas ang ila na identify, kung sa diin nag lab-ot sa 0.5 feet asta 2 feet ang run-off sang surface water. Buot silingon sini, nga wala na sarangan sang aton mga drainages ang kadamuon sang rainwater sa halos isa ka oras, amo na nga nag-tuga sang gulpyada nga pagbaha.

Moderate rainfall ang type sang ulan kahapon kag may rain volume nga 5.5 asta 7.5 liters, kag yara sa low tide ang sitwasyon sang kadagatan.
Yari ang mga lugar nga apektado sang baha kahapon:
Hi-Strip
SM City, Brgy. 12
Burgos-Hilado St.
Downtown Area
Gonzaga Subd., Brgy. Villamonte
Libertad Public Market
Central Market
Lacson-Hernaez St.
Rosario-Mabini St.
Gonzaga-Lopez Jaena
Luzuriaga-Gatuslao St.
Gonzaga-Mabini St.

Lopues East
Lupit River, Brgy.40
Mandalagan River (Near Queen of Mercy Hospital)
Sta. Ana, Brgy. 31
J.R. Torres
Gatuslao-Hernaez St.
Mabini-Libertad St.
Hernaez St. (Cokin Bldg.)
Magsaysay (Flyover)
Magsaysay – Lacson St.
Si Mayor Albee, kaupod kay Vice Mayor El Cid, DPWH kag CEO ang naghimo sang short term kag long term plans para masolusyonan ang problema sa aton baha.

Yari ang mga proposed short term plans:
-Pag-ilis sang manhole cover nga mangin steel grating type
-Declogging sang drainage systems
-Pagpadako sang water inlets
-Pagpalapad sang opening sang mga catch basins
-Pagpatuman sang maayo kag strikto nga pag-implementar sang -pagkuha kag paghaboy sang basura sa mga barangay, kag
-Paghatag sang pahibalo sa mga stakeholders.
Para sa Long-term Plan, tinutuyo ang pagabutangan sang mga Diversion Channels kung sa diin diri i-release ang mga drainages sa area. Paagi sini, ma-relieve ang areas sang SM kag Downtown. Ang mga detalye sini dalayon pa nga ginaplastar.
Gina hingyo ni Mayor Albee sa tanan nga mga pumuluyo nga mangin responsable sa pag haboy sang ila mga basura agud makabulig sa pagpahagan-hagan sang pagdamo sang basura nga nagatuga sang baha.
(Source: Bacolod Public Information Office)