Councilor Novero took up Bachelor of Arts, Major in Political Science, and Minor in English at the Central Philippine University, Iloilo City. He finished his Bachelor of Laws and Letters at the College of Law of the University of the Philippines-Diliman. He has been a practicing lawyer since 1981, concentrating on Civil, Criminal, Corporate, and Labor Laws. He championed the ECOLA of Public School Teachers in Bacolod City and has authored landmark Ordinances that benefited thousands of Bacolodnons.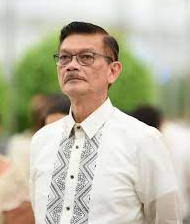 Among these Ordinances are City Ordinance No. 175, Series of 1997 which established the Bacolod City College, City Ordinance No. 750 or the revised charter of the Bacolod City College which enabled the local college to qualify for the Free Tuition Fee Program of the National Government, City Ordinance No. 195, Series of 1997 which created the "Bacolodnon Song", City Odinance No. 145, Series of 1995 which gave birth to the Cooperative and Livelihood Development Office in Bacolod City and City Ordinance No. 801, Series of 2016 which created the Memorial Protection Ordinance.
Committee:
Committee on Human Rights
He has received various awards and accolades, such as the Outstanding City Councilor of the Philippines in 1995, Most Outstanding Government Official-Public Servant for the Year awarded by the Charitable and Professional Leaders Civic Association Inc. in February,1996, Golden Leadership-National Awards conferred by the Philippine Experimental and Research Society, Inc., Most Outstanding Sangguniang Panlungsod Member of the Philippine awarded by the Press Media Affair, Highest Achievement Award given by the New Life of Family Development and Youth Council, Inc., Highest Award-Citation of Honors as Model Citizen for exemplary achievements and contribution to our country given by RIDERAP on July 30, 1988 and the Citation of Honor Award for Outstanding Personality Exceptional, and Excellent Achievements, Integrity, Efficiency and Dedicated Service in the Philippines on June 21, 1989.
He was the National President of the Gideon's International in the Philippines from 1999 to 2001 and was elected the International Trustee for 2003 to 2006, making him the first Filipino to become a member of the said International Cabinet. He was the the Vice Mayor of Bacolod City from 2004 to 2007. During his term, he was elected as the President of the Vice-Mayor's League of Negros Occidental and the National Vice President for 10 years (1988-1998), was elected as the No. 1 Councilor for 2 consecutive terms (1992 and 1995) and became the President of the Councilor's League of Negros Occidental.
Contact Details:
Email: spmnovero@gmail.com
Landline: (034) 435-3600