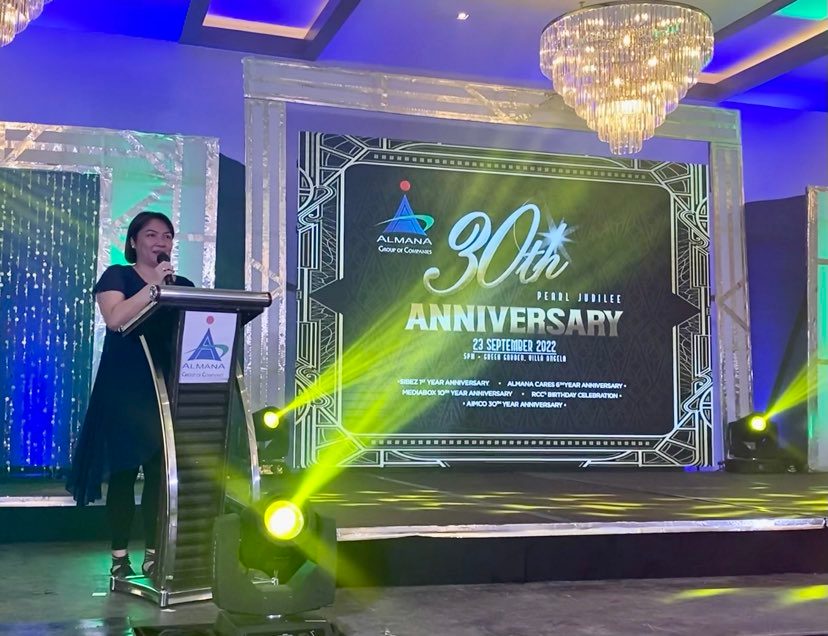 "30 Years of Making Lives Better"
This is the theme of the Almana Group of Companies as it celebrated its Pearl Jubilee last Friday, September 23, 2022.
The event was a multi-celebratory phenomenon, which also marked the 1st Year Anniversary of Sibez Corporation, 6th Year operations of Almana Cares Foundation (CSR), Mediabox Events and Advertising Corporation's 10th year anniversary and also the 52nd Birthday Celebration of Ritchie Neil C. Corpus (RCC), President and CEO of the said company

With the special invitation given to the city mayor, Ma. Carmela Bantug-Zayco, the executive assistant head representing Mayor Albee Benitez, gave her congratulatory message to the company's milestone and greetings .
Bacolod City Councilor Vladimir Gonzales was also present in the event to deliver his congratulatory message on behalf of Congressman Greg Gasataya.
"Today's party is our way of thanking the Almighty God for blessing us with continued operations, for protecting us from the risk of coronavirus, for good health, for business growth amidst the adversities and for every simple way that he has bestowed upon us." stated by Jose Wilson Mider, Vice-President for finance and operations.
Almana Group of Company is a reputable company that is primarily engaged in manufacture, distribution, and marketing and under it is the ALDRTZ corporation, a business company that sells herbal dietary supplements and liniment oils known as Pau de Arco.
(Source: Bacolod Public Information Office)