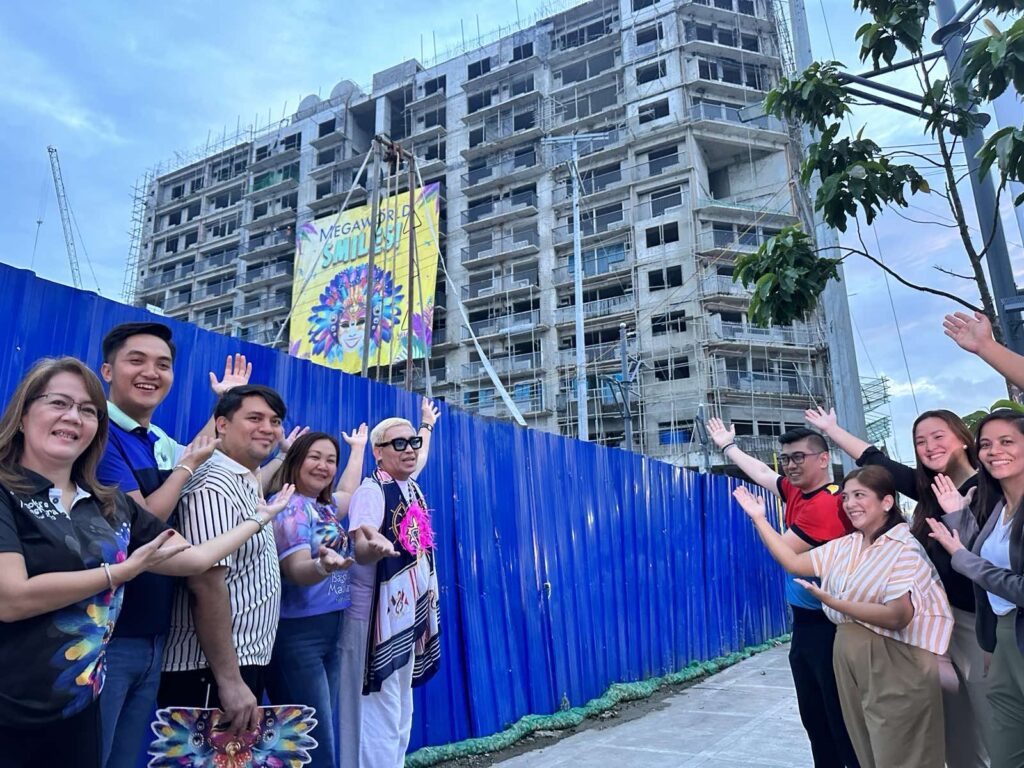 BACOLOD CITY, Philippines, October 14, 2023 – The excitement for this year's Masskara Festival reaches its peak as Bacolod City's biggest celebration kicks off at property giant Megaworld's 34-hectare The Upper East with the unveiling of the biggest Masskara banner in the city.
With The Upper East being the biggest venue of this year's festivities, Megaworld has unveiled a 50 feet x 50 feet 'Megaworld Smiles' banner hanging on the façade of Two Regis. Covering about five floors of Megaworld's residential condo development, the banner serves as a perfect backdrop for Masskara tourists taking their selfies in The Upper East.
'Megaworld Smiles,' the company's theme for this year's Masskara Festival, mirrors the energy and the excitement that Megaworld has been pouring into the 'City of Smiles' as it joins Bacoleños in celebrating the vibrant way of life in Bacolod.
In partnership with the Bacolod Yuhum Foundation, some of the biggest festival celebrations this year are hosted at The Upper East.
From October 13 to 22, the township is hosting a variety of events like the Masskanamit Food Fest, the biggest gathering of all food restaurateurs in Bacolod where festival goers can sample the best local dishes, such as cansi, chicken inasal, callos, and more. There's also the Masska Eats + Beats & Arts Festival, which will feature pop-up music and arts events; the MasskaAuto Car Meet, where visitors can get a close look at some of Bacolod's finest tuned cars; Masska Sine, a one-night outdoor cinema presentation serving as tribute to renowned Filipino filmmaker Peque Gallaga; and Into the K-Fever, a heritage and cultural showcase headlined by Namyangju Branch of Baebeng-i-gut Conservation Society, one of Korea's premier traditional performance groups. Other events include an on-the-spot mask making competition, Emperador Nights bottle painting and mixology competition, nightly parties and DJ performances, and many more.
Come October 21, Saturday, The Upper East will be hosting the Electric Masskara Parade, a showcase of the most creative Masskara floats that will light up the entire stretch of the Upper East Avenue to delight festival goers.
Beyond the Masskara Festival, The Upper East continues to take shape as the modern central business district of Bacolod City with Megaworld continuing to bring lots of exciting developments. This forms part of the company's commitment to help Bacolod City fulfill its vision of truly becoming a 'super city.'
Just this September, Megaworld announced its fifth residential condominium development inside The Upper East, the 26-storey, two-tower Kensington Sky Garden. This new residential property is envisioned to be another iconic landmark that will redefine Bacolod's growing skyline as both towers will be highlighted by illuminated crowns that dazzle at night. It will offer 643 'smart home' units and will soon rise at the corner of Upper East Avenue and Bentley Street, just across the newly-opened Landers Bacolod, the biggest Landers Superstore in the Philippines to date.
Before the year ends, Megaworld will begin constructing the 12-storey Kingsford Hotel Bacolod. Offering almost 300 room keys, it is poised to become Bacolod's biggest and most iconic hotel to date that will feature a variety of upgraded facilities and amenities, including a wider choice of room categories and several food and beverage outlets. Kingsford Hotel Bacolod will be strategically located between Megaworld's four residential condominium towers of One Regis, Two Regis, One Manhattan, and Herald Parksuites.
Next year, meanwhile, Megaworld will also begin construction for the iconic Upper East Mall to be operated by Megaworld Lifestyle Malls. Covering a gross floor area of 24,200-square meters and to be connected directly to Landers Bacolod via a walkalator, Upper East Mall is envisioned to become Bacolod's new architectural landmark as it showcases a blend of neo-classical and art deco architecture, reminiscent of New York City's Upper East Side cityscape.
(Source: Bacolod City Public Information Office)