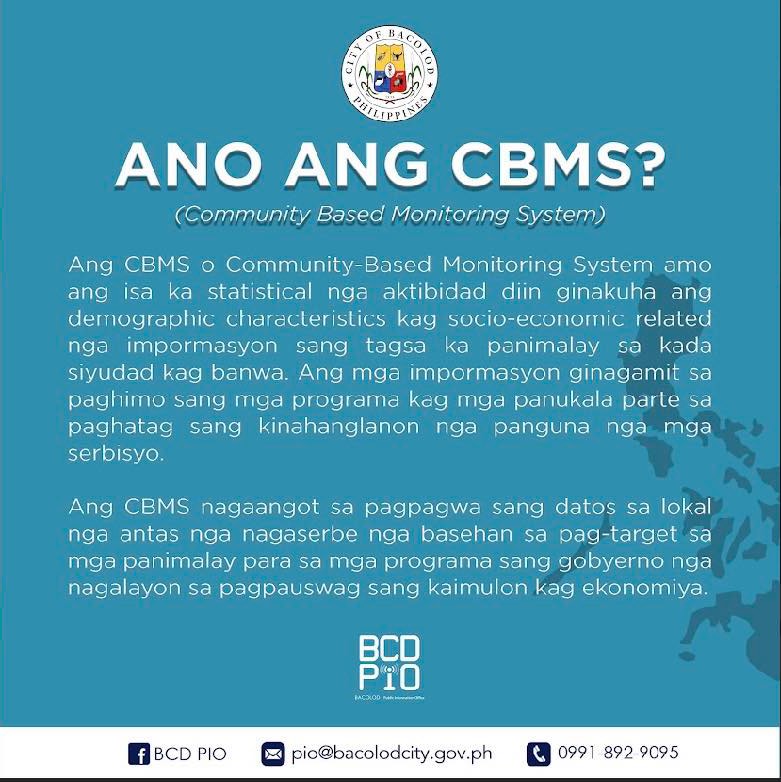 June 30, 2023 – The Community-Based Monitoring System (CBMS), a pioneering initiative supported by City Mayor Alfredo Abelardo Benitez in data collection and analysis, is set to launch in Bacolod City.
It aims to empower local communities, policymakers, and development planners with accurate and comprehensive data for evidence-based decision-making, ultimately driving inclusive and sustainable development in the city.
CBMS, a collaborative effort between the national government and Bacolod LGU, brings together the expertise of the Department of the Interior and Local Government (DILG), the National Anti-Poverty Commission (NAPC), and the Philippine Statistics Authority (PSA).
The launch of CBMS in Bacolod City signifies a significant step toward harnessing the power of data to address the unique challenges and opportunities faced by the community.
With its rigorous data collection methodology by engaging directly with the community members, CBMS gathers vital information on various aspects of community life, such as demographics, education, health, employment, housing, and poverty, and ensures that their voices are heard and their needs are accurately reflected in the data collected.
This approach allows for a more holistic understanding of the community and facilitates the design of targeted interventions to uplift the lives of its residents.
The CBMS launch event in Bacolod City will bring together key stakeholders, including government officials, local community leaders, academics, and development partners. The program will feature a series of informative sessions, panel discussions, and workshops that highlight the benefits of CBMS and its potential to shape evidence-based policies and programs.
Utilization of CBMS in the city is expected to bring about numerous advantages; Policymakers and development planners will have access to reliable data that can inform policy formulation and strategic planning, leading to better-targeted interventions.
The availability of accurate information will also enable improved resource allocation, allowing for the prioritization of critical needs and the optimization of services.
Moreover, CBMS empowers local communities by fostering a participatory approach to development. Through the engagement of community members in data collection, analysis, and decision-making processes, CBMS creates opportunities for shared responsibility and ownership, fostering a sense of empowerment and social cohesion.
(Source: Bacolod City Public Information Office)